Installation and update
Jump to navigation
Jump to search
Important
First and foremost: make a
backup copy
of your profile regularly, especially before migrating from Miranda IM.
Installing Miranda NG
Installer (recommended)
Go to the Download page, choose and download the latest stable or development version from the "Installer" section.
Start the installer and follow all instructions.
Archive
Go to the Download page, choose and download the latest stable or development version from the "Core and basic plugins" section.
Extract the downloaded archive to any folder on your computer. You may create a new folder on a flash drive as well, since Miranda is a portable application by default.
Start Miranda executable file and create a new profile. Alternatively, you may copy your Miranda IM profile into Miranda NG program folder (see Upgrading Miranda IM to Miranda NG).
Adding plugins
Warning
Stable work of Miranda NG is guaranteed
within the same build
, i.e., all plugins of the same compilation are compatible with the core while two adjacent builds can be completely incompatible. To add plugins to your Miranda installation and update them, please use
PluginUpdater
.
Note
Some plugins (e.g.,
HTTPServer
,
SecureIM
,
SmileyAdd
) may require other plugins or additional files not included in the plugin archive. Information about additional requirements can be found in our wiki. For details see plugin's page, check its description and "System requirements" section of the plugin card.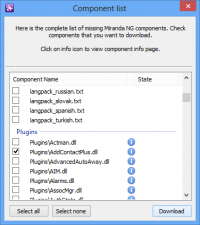 Automatic method
PluginUpdater allows you to download and install several plugins at once.
Go to Main menu → Available components list.
Select additional plugins and a langpack to install (see the screenshot). Clicking on "Information" icon will open the plugin's wiki page in your browser.
Click Download button.
Manual method
Plugins can be installed manually, one by one. DownloadDownload the plugin of appropriate version and extract the contents of the archive into Miranda NG folder keeping the folder structure.
Updating Miranda NG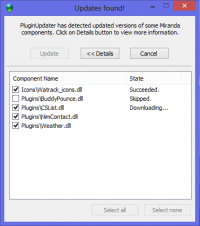 Important
Do not rename the Miranda executable and plugins. Their names are important for the automatic update to work correctly.
PluginUpdater is responsible for keeping your Miranda up-to-date. It checks for updates for all installed plugins and other components like icon sets and langpack regularly (depending on its settings) and performs updating automatically.
Version choice
If you want to switch to Development version, choose it in Options → Services → Plugin Updater. It is updated more often so you'll be able to take advantage of new features sooner. To be on a safe side make a backup of your Miranda NG installation folder before switching to development version.
Selective update of components
PluginUpdater remembers user's choice of the components in the list of updates. If you have a custom langpack or an icon set (e.g., Proto_Jabber.dll) which you don't want to update, uncheck the corresponding items in the list. You need to do this once, those components will remain unchecked during the next updates and thus won't get updated.
Upgrading Miranda IM to Miranda NG
Warning
Before taking any of these steps, make sure you've created a
backup copy
of your profile and the program itself. All instructions are to be followed at your own risk, the Miranda NG team are not responsible for any data loss or damage.
Upgrading means substitution of all the core Miranda IM files and plugins with their versions for Miranda NG. Due to major changes in the core, Miranda NG is not compatible with plugins for Miranda IM (see Differences from Miranda IMMiranda NG:About). If any of your current Miranda IM plugins is not adapted for Miranda NG, check Plugin listPlugin list to see if there's some plugin for the same or similar functionality.
When migrating to Miranda NG you can use your Miranda IM profile (.dat file). This means your old settings, contacts and history will be kept.
Important
Works only for Miranda IM v0.8 and later.
Important
Works only with dbx_mmap driver. If your Miranda IM use another driver (for example, dbx_sqlite), you should export all settings and history, create new IM (dbx_mmap) profile and import setting/history.
Download IM Updater plugin, unpack the whole archive into your Miranda IM program folder and then run or restart the program. IM Updater will:
Replace the core files and the appropriate plugins with their NG equivalents.
Rename old Unicode plugins that have the trailing W in their names.
Make a backup of any obsolete plugins.
After the first update, you will have Miranda NG 0.94.9. Updater should notify you that a newer (last) stable version is available. Or you can check for updates manually via the main menu. After the second update, you will have the newest stable version.
You'll probably face some problems with skins. See v0.94.3 release notes for instructions on how to solve them.