Hardware HotKeys
Plugin:HwHotKeys/cs
---
Hardware HotKeys
Název souboru
HwHotKeys.dll
Autor
Eugene f2065
Odkazy ke stažení
Stabilní verze:
32-bit, 64-bit
Nejnovější verze:
32-bit, 64-bit
Důležité
Current plugin version works only with PS/2 keyboards, USB keyboards are not supported yet.
Umožňuje přiřadit rozšířené multimediální klávesy (pouze pro PS/2 klávesnice).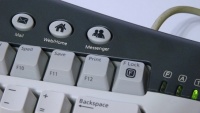 With this plugin you can use these keys while assigning hotkeys for the following actions:
Close Miranda
Show/Hide contact list
Read message
You don't need this plugin to use keys like Mail, WWW, Play/Pause, Next Track, Prev. Track, etc. They have VK codes and can be assigned through the standard Customise → Hotkeys dialog.