Packs/Miranda NG Pilot Pack
Jump to navigation
Jump to search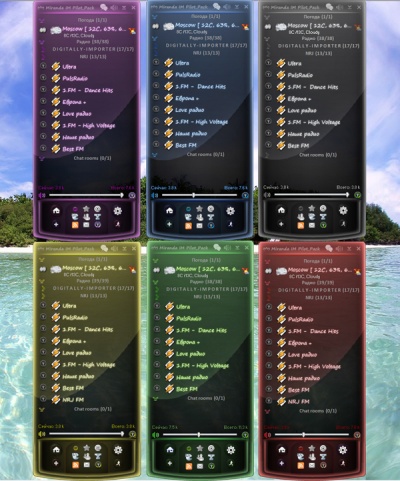 Miranda NG-based universal internet pager, designed for comfortable and easy communication with almost any instant messaging network. Usual menu items order, fresh & optimized plugins usage, functional skins that are ideally suitable for any desktop theme, several types of predefined configurations and the unique set of musical events could satisfy both a professional and a beginner, and make Miranda Pilot Pack one of the most recognizable clients of new generation.
Download

Discussion: ru-board | miranda-ng
Installation recommendations
Please pay attention to the installation process… Mark only those components you need!
It's strongly recommended that you enable font smoothing when using a handwriting font. Under Windows XP you can enable it in this way: RMB on the desktop → Properties → Appearance → Effects – select ClearType from the Use the following method to smooth edges of screen fonts drop-down list;
When choosing a name for Miranda Pilot Pack's folder, please note the following:

it's not recommended to install and use this pack into the Program Files system folder if UAC is enabled;
the path to Miranda Pilot Pack should contain only Latin characters;
if the installation directory's name doesn't contain the word "miranda", IEView templates might not work correctly.

If you installed Miranda into a new (clean) folder, you would need to create a new profile.
Anyway moving or copying of the old profile is strictly not recommended!
Update recommendations
If you have an older version of the assembly, and this installer includes the ability to upgrade this version, the assembly of course could be upgraded, but only on condition that the update will be installed by the installer. Otherwise, the assembly must be installed in a new folder and a new profile should be created.
Anyway moving or copying of the old profile is strictly not recommended!
Appearance