Pakete/Miranda NG Pilot Pack
Jump to navigation
Jump to search
| | |
| --- | --- |
| | Dieser Artikel muss übersetzt werden. |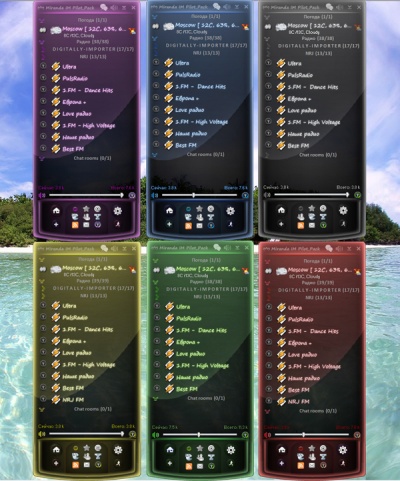 Miranda NG-based universal internet pager, designed for comfortable and easy communication with almost any instant messaging network. Usual menu items order, fresh & optimized plugins usage, functional skins that are ideally suitable for any desktop theme, several types of predefined configurations and the unique set of musical events could satisfy both a professional and a beginner, and make Miranda Pilot Pack one of the most recognizable clients of new generation.
Download
Latest version of the pack can be downloaded here

Discussion: ru-board | miranda-ng
Installation recommendations
Please pay attention to the installation process… Mark only those components you need!
When choosing a name for Miranda Pilot Pack's folder, please note the following:

it's not recommended to install and use this pack into the Program Files system folder if UAC is enabled;
the path to Miranda Pilot Pack should contain only Latin characters;
it's strongly recommended that you enable font smoothing when using a handwriting font. Under Windows XP you can enable it in this way: right-click on the desktop → Properties → Appearance → Effects — select ClearType from the Use the following method to smooth edges of screen fonts drop-down list;
if the installation directory's name doesn't contain the word "miranda", IEView templates might not work correctly.
Update recommendations
If you have an older version of the assembly, and this installer includes the ability to upgrade this version, the assembly of course could be upgraded, but only on condition that the update will be installed by the installer. Otherwise, the assembly must be installed in a new folder and a new profile should be created.
Anyway moving or copying of the old profile is strictly prohibited!
Features
More than ten colourful themes with ability to change them from the main menu in a single click
Auto-updating of both normal and portable installation of the assembly
Database driver with encryption
Support for social networks
Checking for new mail on GTalk account
Authorization state icons in your contact list
Profile autobackups
Ability to set a password on the profile
IM clients that your buddies use are indicated by icons in the contact list and conversation window
Convenient history
Auto-connect on Miranda startup and after disconnection
Popup notifications about incoming messages and birthdays of your contacts
Support for smileys
Spam blocking
Informative tooltips when you hover a contact
Hiding Miranda by pressing Strg+F12
and much more
Protocols supported
Pseudo-protocols:
System requirements
Windows XP SP3 +
Internet Explorer 8 +
Appearance