Netzwerklog
Network log/de
---
Wichtig
Bevor Sie einen Netzwerklog posten stellen Sie bitte sicher dass es keine Zugangsdaten enthält. Wenn Sie sich unsicher sind dann versuchen Sie, den Entwickler direkt zu kontaktieren anstatt den Netzwerklog hier zu posten.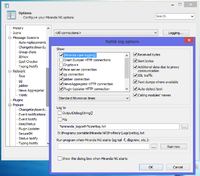 Ein Netzwerklog ist eine Textdatei, die alle Ihre Netzwerkaktivitäten aufzeichnet.
Um dies zu aktivieren, gehen Sie bitte wie folgt vor:
Öffnen Sie Hauptmenü → Einstellungen → Netzwerk und klicken Sie auf

Logeinstell

.
In dem Fenster klicken Sie auf Log nach: Datei. Sie sehen dort den Pfad, und können auch Ihren eigenen angeben.
Versuchen Sie, den Fehler nachzustellen. Wenn Sie Erfolg hatten, machen Sie eine Kopie der Datei netlog.txt.
Gehen Sie zurück zu "Logeinstellungen" und deaktivieren Sie das Logging.
Tipps und Tricks
Bitte bearbeiten Sie den Log nicht, jede Information kann wichtig sein.
Please use attachment system to add logs to our issue tracker (see How to attach files). You can also upload network logs to sites like pastebin.com, pastie.org and share a link.
Das Plugin Console kann den Netzwerklog sofort darstellen.
Siehe auch