Pakiety językowe
Langpacks/pl
---
Pakiet językowy (language pack, langpack), to plik tekstowy o nazwie langpack_*.txt, zawierający przetłumaczone ciągi znaków (strings) zawarte w Mirandzie i wtyczkach. Jego użycie pozwala na wyświetlenie interfejsu Mirandy NG w języku innym niż domyślny angielski.
Instalacja i użycie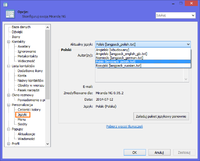 Metoda automatyczna
Wtyczka PluginUpdater pozwala na wygodną instalację jednego lub wielu tłumaczeń na raz, z poziomu samej Mirandy. Żeby zainstalować tłumaczenie/tłumaczenia należy:
Wybrać Menu główne → Pobierz komponenty.
W otwierającej się liście zaznaczyć interesujące nas tłumaczenia.
Wcisnąć

Pobierz

.
Po pobraniu, tłumaczenia będą dostępne do wyboru w Opcje → Języki.
Metoda ręczna
Żeby zainstalować tłumaczenie należy:
Pobrać archiwum z odpowiednim tłumaczeniem:
Wypakować to archiwum do folderu Mirandy NG.
Nowe tłumaczenie będzie od razu dostępne do wyboru w Opcje → Języki.
Zmiana języka
Żeby zmienić język interfejsu wystarczy tylko umieścić plik pakietu w folderze Mirandy i uruchomić ją lub zrestartować. Po jej włączeniu możemy się cieszyć Mirandą w języku jaki załadowaliśmy.
If there are two or more langpacks in "Languages" folder, Miranda will use the one which comes first alphabetically at startup (e.g., in profile manager). You can specify the default language pack to be loaded at startup in Mirandaboot.ini by editing DefaultLanguage parameter under [Language] section, e.g.:

DefaultLanguage=langpack_german.txt

Pobierz tłumaczenie
Below are the translations that already exist. Unfortunately, they can now be counted on the fingers, and not all of them are correct. But if you want to help - like with an existing translation, or add some other — welcome to Miranda's translators.
See also